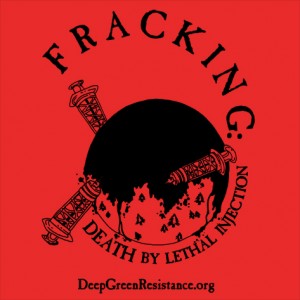 There's a war going on against the living planet:
mountaintop removal,
rare earth mining (for metals used in solar panels, turbine, & hybrid cars),
fracking devastation the world over,
topsoil depletion due to industrial agriculture,
aquifer depletions due to industry's massive thirst,
deforestation (for furniture as well as the so-called "biofuels"),
nuclear armaments, nuclear energy,
ocean acidification,
the list is long – but it all relies on the infrastructure of the industrial economy.
Deep Green Resistance is an analysis, a full-range strategy, and life-centered movement that advocates for effective, smart, and humane resistance. We are 100% volunteer-run, and the generosity of our volunteers and members has helped us grow an organization to promote the DGR message to the environmental movement, and all life-loving peoples. You can support us materially & promotionally by buying our beautiful t-shirts with original artwork. Or, if you have steady income and the capacity to make a monthly donation, please consider doing so.
You can order t-shirts, the DGR book, stickers, and hoodies at the Deep Green Resistance store.