by Max Wilbert / Deep Green Resistance
Last week, I was invited to join a Sacred Water Run-Walk in Nevada by Chief Johnnie Bobb of the Western Shoshone National Council. Chief Bobb attended the Sacred Water, Sacred Forests gathering back in May, and we exchanged contact information.
I decided to attend last minute after his phone call, and gathered my supplies and energies. It is a 14 hour drive from my home in Oregon to the area the walk was to take place, so I took two days to make the drive. I stopped along the way and purchased as much food and supplies as I could afford, although I didn't know exactly what was needed.
I slept on the night of October 1st in my car at the Swamp Cedars, where we were supposed to meet. The Swamp Cedars are an ecologically unique stand of Rocky Mountain Junipers on the bottom of Spring Valley. Pure water coming out of the ground, shade from the trees, and rich grasses that brought in game animals made this area a gathering place for Newé (Western Shoshone/Goshute) people for thousands of years. It is also why the people were gathered here when they were massacred by the U.S. Calvary, one of several massacres here.
I was awoken before the dawn the next morning when Rupert Steele, the chairman of the Confederated Tribes of the Goshute Reservation, pulled in next to me. We spoke for a while, and then others started to arrive. The others included about 15 or 20 other people from 12 different indigenous nations.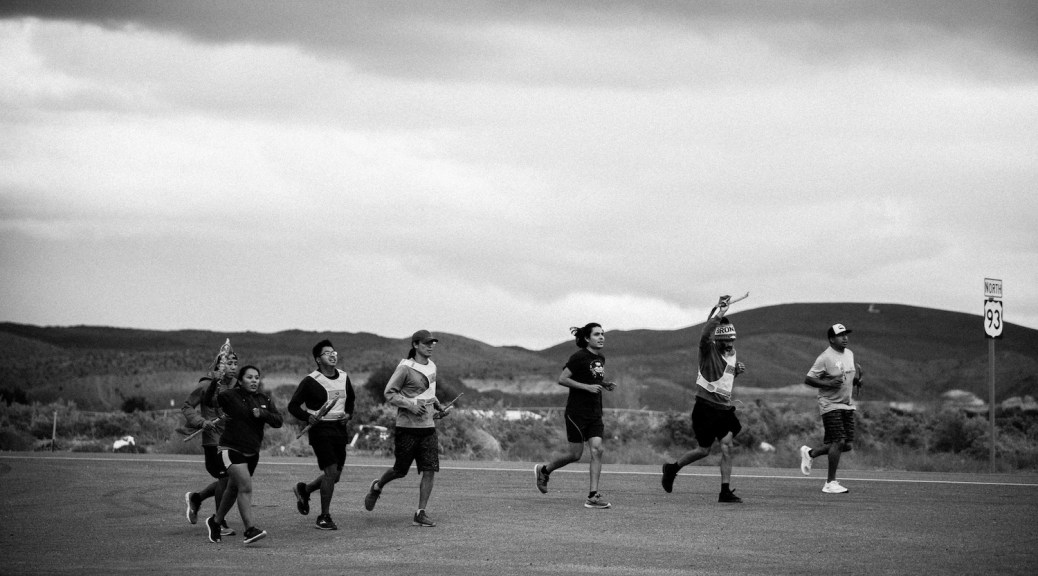 Mr. Steele and Chief Johnnie Bobb both said prayers and burned sage as the sun rose over Spring Valley. I introduced myself to various people, including the woman who organized the run (Beverly Harry). I told her about the food, which she was happy about. Then the runners started out. I stuck around for a while and made some coffee for the elders. One of them asked me to join them in the run-walk, a great honor. I ended up doing 10 miles that day. We did it relay style, so at least one person from the group ran or walked every mile.
We covered 100 miles that first day, then stayed at Cathedral Gorge State Park. We had a nice night around the fire and got to know each other a bit better. I was able to stay through the second day. We covered another 75 miles the second day, and then I had to leave. The runners continued down to the Moapa Paiute reservation.
Our network against the water grab is growing. There were some solid people there. In the event SNWA begins to build the pipeline, there will be serious resistance.