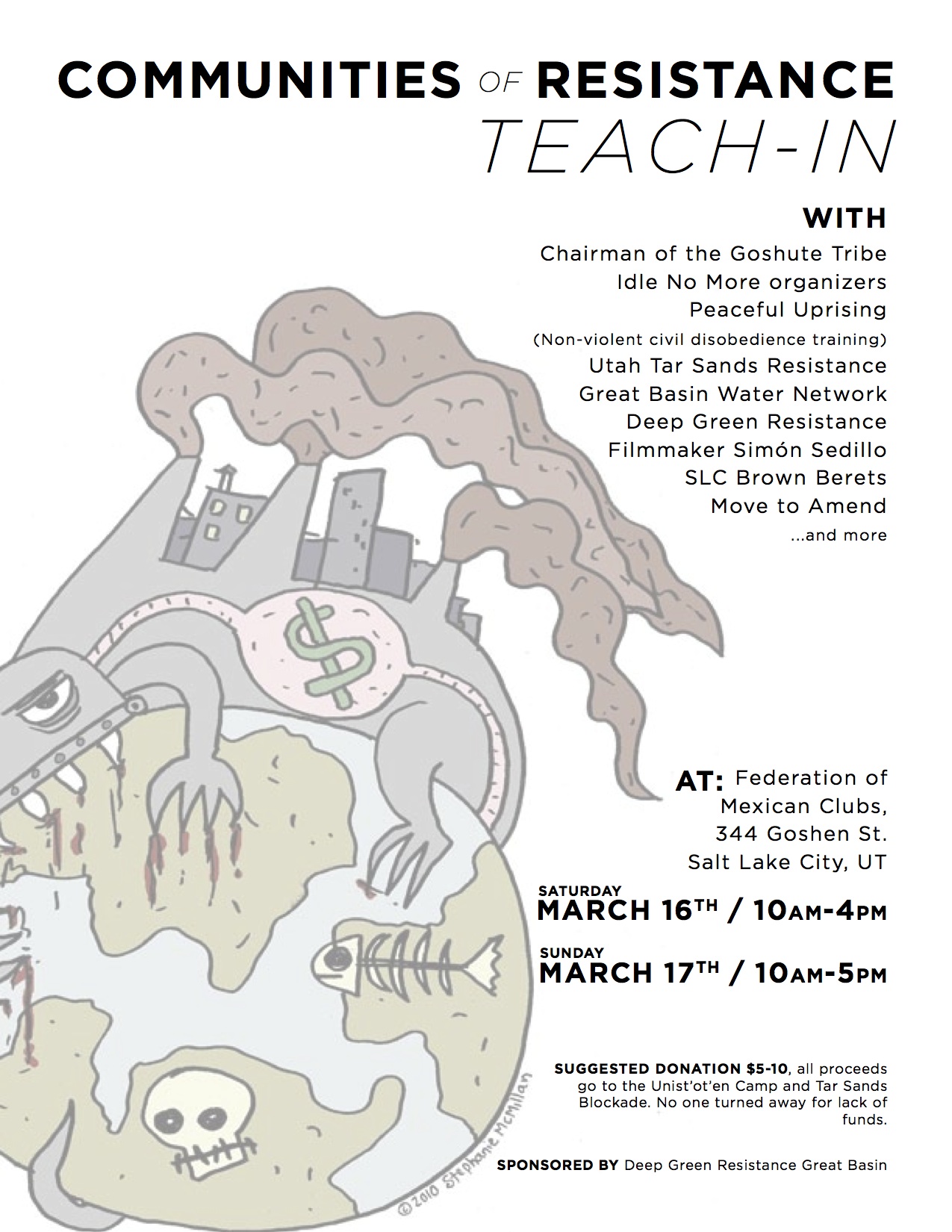 Sponsored by: Deep Green Resistance Great Basin chapter, SLC Brown Berets, and Decolonize Salt Lake City.
__________________________________
Two days of Presentations and Trainings:
– Goshute Tribal Chairman Ed Naranjo on the SNWA (Southern Nevada Water Authority) proposed water pipeline to steal groundwater from the Goshute Reservation.
– Community organizer and filmmaker Simón Sedillo shows his film "Guarda Bosques" (Forest Keepers) about peoples organizing for self defense and community autonomy in Cheran, Mexico.
– Salt Lake City Brown Berets
– Local Idle No More organizers
– Utah Tar Sands Resistance on the proposed Tar Sands projects in eastern Utah.
– Non-Violent Civil Disobedience training from Peaceful Uprising
– Liberal vs. Radical and the need for organized underground resistance from Deep Green Resistance
__________________________________
COST:
Suggested donation $5-10, all proceeds go to the Unist'ot'en Camp, Tar Sands Blockade, and a warchest for local efforts against the SNWA water pipeline.
NO ONE WILL BE TURNED AWAY for lack of funds.
__________________________________
Please spread the word about this event and invite all your friends!
Please bring any cash or materials donations you can spare for the Unist'ot'en Camp and the Tar Sands Blockade – two of the most important resistance efforts going – as well as for local resistance efforts:
CLIMB GEAR (unused, please)
* 9 1/2-12 mm static kern-mantle/arborist climb lines
* 5/8ths CWC truck rope or Tytan
* arborist throw lines and throw bags.
* 6mm accessory cord (climb rated)
* 1" tubular webbing
* rock/tree climbing harnesses all sizes mostly medium
* locking climb rated steel and aluminum carabiners
* climb rated pulleys (preferably tandem speed)
* Petzl steel quick links
TECH
* gmrs radios with silent and ear bud options
* Energizer XP18000s
* batteries (AA/AAA/Go Pro Batteries)
* GoProHero2′s & extra batteries
* Netbooks
* small portable solar panels with battery
* Pelican cases (large and small)
* deer/trail cameras
* satellite phones
* MacBook Pro's
* 16GB SDcards (Class 10 preferred)
* 8GB+ flash drives
* Verizon or AT&T WiFi hotspots
* Field watches
* Car DC inverters
* 1TB USB External Hard Drives (Mac & PC compatible)
MEDICAL
* splints
* coband
* braces (limb)
* disinfectant/antibacterial swabs
* compact gurney
* saline
* Epsom salt
* joint braces
* gauze rolls
* ace bandage
* Benedryl (anti-allergy)
* nitrile gloves
* trauma shears
APPAREL
* rain gear
* warm clothes (wool or synthetic earth tones) and socks!
* tarps/tents
* wool blankets
* sleeping bags
* camping hammocks
* headlamps with blue or green (preferred) or red LED option
* work gloves
* towels
TOOLS & MATERIALS
* angle grinder
* chopsaw
* battery powered drills and impact drivers (makita, delta, bosch, dewalt)
* welder (arc)
* handsaws
* shovels
* pickaxes
* rope: seriously, anything
* 550 parachute cord
* chain
* utility and pocket knives
* multitools (Leatherman or Gerber)
* plywood (3/8"-3/4" – 4′x8′ sheets)
* 2×4′s
* decking screws
* 3/8-1/2" bolts and nuts
FOOD
* coffee (good and strong)
* bulk grains
* produce
* spices
* condiments
* non-perishables
* EmergenC
* tea (herbal and medicinal especially)
* MRE's
* crab cookers or any large outdoor portable stoves
* large industrial cookware
ART
* muslin/canvas
* paint (buckets and spray)
* general art supplies
* projector (mac/pc compatible)
* grommet kit
* paint brushes
* paint sticks /mops
OTHER
* bicycles
* vehicles (junk or drivable)
* thermoses
* toilet paper
* soap
* water filters
* backpacks
* all-natural cleaning supplies
* Camelbaks
* generator 600watt plus
* all-natural mosquito repellant
* tampons
* verizon prepaid phone cards