via Vancouver Island Community Forest Action Network: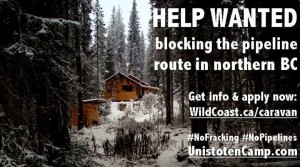 People all over Turtle Island are answering the call to stop the pipelines and support indigenous resistance. The camp needs strong-hearted volunteers to watch over the forest and patrol the area this winter.
Please come to the camp and bring your good energy. Defend the land and water. Gain knowledge and courage so we can begin the work of restoring the land and building a future for all living things.
LEARN MORE and SIGN UP: