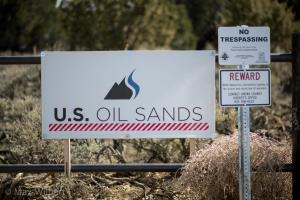 Work on the Utah Tar Sands project continues. The following is excerpted from Oilvoice.
"During the third quarter of 2014, the Company's project team continued to work with its engineering consultants and equipment suppliers to complete final engineering design and procure equipment for the PR Spring Project.

For the remainder of 2014, the Company will continue to focus on the PR Spring Project Phase 1 detailed engineering of the modules.

US Oil Sands Inc. (TSXV: USO) announce that it has filed its unaudited interim financial statements ("Interim Report") for the three month period ended September 30, 2014 ("Q3 2014") along with the management discussion and analysis ("MD&A") of the financial results of US Oil Sands for such period.

A copy of the aforementioned documents may be found for viewing on the System for Electronic Document Analysis and Retrieval website at www.sedar.com as well as US Oil Sands' website at www.usoilsandsinc.com.

"US Oil Sands met a significant milestone during the quarter by completing the grading and preparation of the PR Spring Project plant site and procuring all major equipment for the PR Spring Project," said Cameron Todd, CEO of US Oil Sands. "We are excited to progress to the fabrication phase of the Project in preparation for modular installation, commissioning and ultimately, commercial production in 2015."
Unconventional oil and gas is a huge business in Utah, especially on the eastern side of the state. A large road is planned to open more areas to oil and gas extraction. Fracking is also expanding in other parts of the Great Basin, particularly northern Nevada. Several groups in Nevada and Utah are involved in resistance to these efforts, including legal challenges, protests, public education, and direct action.
This aboveground resistance is critical to our future success. Deep Green Resistance also calls for strategic underground resistance to industrial civilization. Contact us or explore our website further for more information about DGR and our work.