From the Deep Green Resistance Southwest Coalition, a report-back from the 2014 Sacred Water Tour:
---
By Max Wilbert, Susan Hyatt, Katie Wilson, and Michael Carter, Deep Green Resistance Southwest Coalition
In late May 2014, members of Deep Green Resistance (DGR), Great Basin Water Network, the Ely-Shoshone Indian tribe, and others toured the valleys of eastern Nevada and western Utah targeted by the Southern Nevada Water Authority (SNWA) for groundwater extraction.[1]
The region is part of the Great Basin, a cold desert named for its lack of any drainage to an ocean. What rain falls in the Great Basin remains there in a few streams, ponds, lakes, springs, and aquifers. It is these aquifers that SNWA wants to pump into a central pipeline and bring to the cities of Las Vegas and Henderson. The Goshute and Shoshone tribes and many groups, local individuals, businesses, and governments oppose the project, now stalled by lawsuits. DGR initiated the Sacred Water Tour to help familiarize potential opponents with the land and the water conflict.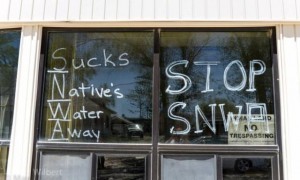 Read the full Sacred Water Tour report-back